Sales department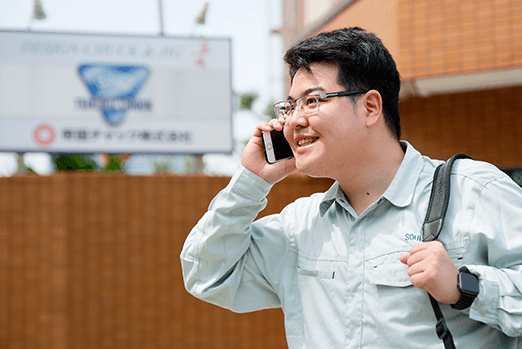 We discuss closely with domestic customers and respond carefully from inquiries to production completion, delivery, and after-sales support.
─ Main activity
Quote, meeting, manufacturing order, test cutting, defect handling, etc.
Oversea sales department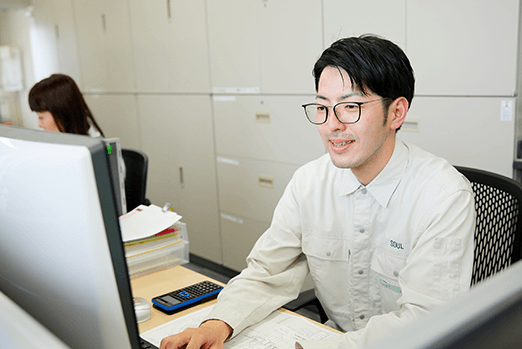 We are responsible for overseas customers and respond to inquiries and meetings (overseas business trips, etc.). In addition, we are also in charge of export and import operations, and play a role in connecting overseas and domestic.
─ Main activity
Quote, meeting, import/export operations, manufacturing order, defect handling, etc. for overseas customers.
Engineering department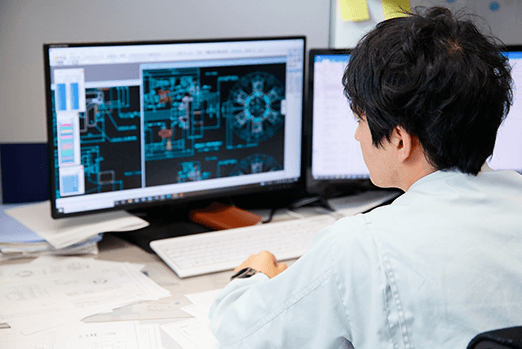 All designing process is taken in-house from new projects to improvement of repeat products and development of new products. We design with our vast technical experience and new creativity that we have cultivated, and deliver the drawings that bring customer satisfactions.
─ Main activity
Design drafting, research, analysis, development, etc. by using CAD system.
Manufacturing department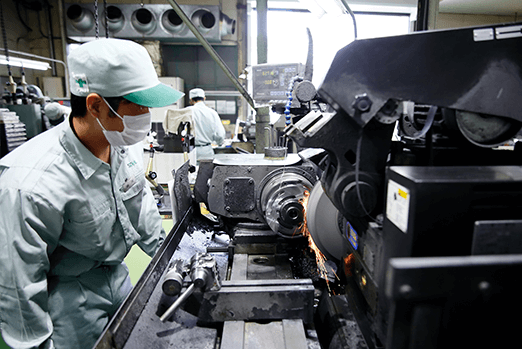 From the latest to general-purpose machines, we make full use of the manufacturing technology gained over many years of achievements, and manufacture every single product carefully and with all our soul.
The manufacturing task is shared by each production team, and we always pursue improvement in work efficiency by firm communication.
─ Main activity
Machining, heat treatment, product assembly, etc.
Production control department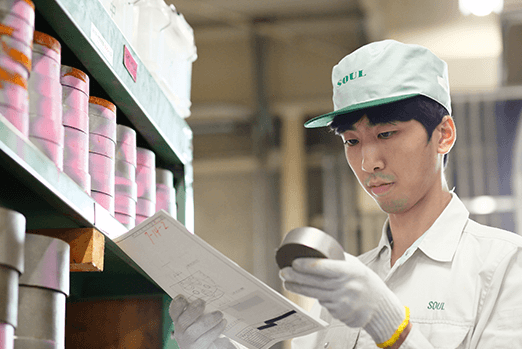 We adjust the production schedule of our factory, and managing the delivery date of vendor factories that are processing parts that cannot be covered by our production capacity, and managing inventory parts. We also procure materials that are indispensable for making products and negotiate prices.
─ Main activity
Delivery management, vender control, inventory parts ordering / management, material procurement, etc.
Quality control department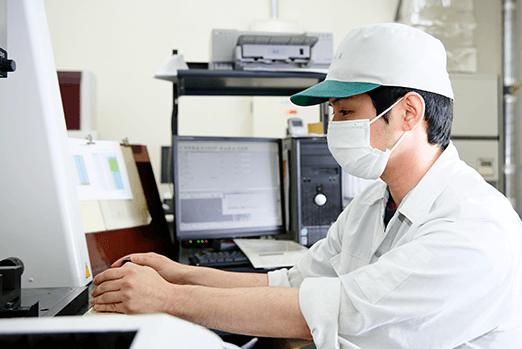 Inspectors inspect each part received before assembly and parts processed at vendor factories one by one with a measuring tool, and play an important role as the final line to prevent defet returns and complaints.
We also perform high-precision measurements with coordinate measuring machines and shape measuring machines.
─ Main activity
Inspection of received parts, inspection of parts just before shipping, etc.
Inspection department (product inspection / Shipping.)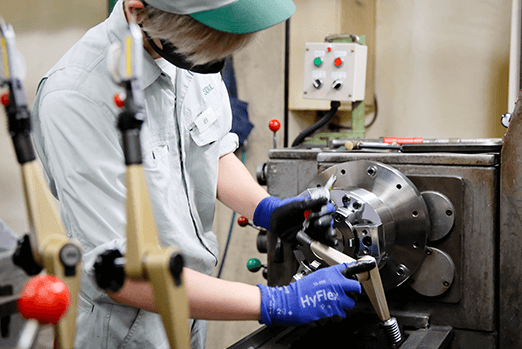 Make a final quality check as our last process of the production. We install it on a turning machine to measure static accuracy and check clamping operation. Products that have been inspected are packed in a package and shipped.
─ Main activity
Product inspection, packaging, shipping, etc.
General affairs department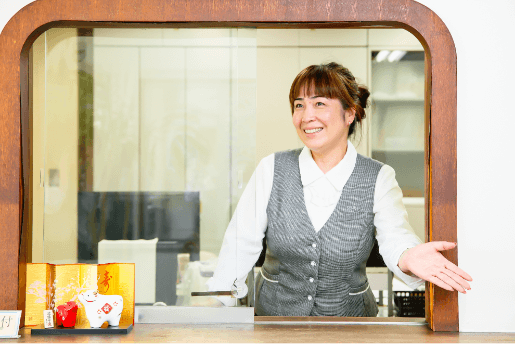 We provide welfare programs, manage employee attendance, establish and revise employee work regulations, and support the creation of a comfortable working environment for all employees. It is a department that always has a fair perspective and is like a bridge that connects employees and executives.
─ Main activity
Welfare work, document management, facility management, attendance management, formulation / revision of internal regulations, etc.
Account finance department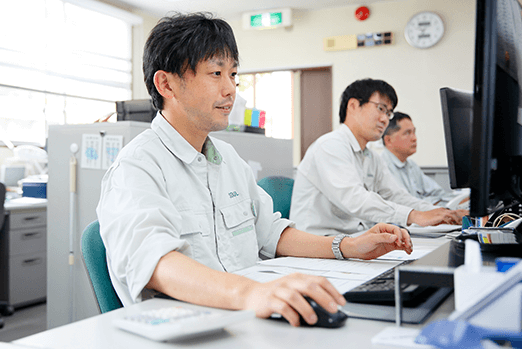 We are engaged in all managements related to money such as bookkeeping of sales and payments, issuance of invoices, and funds and property. In addition to money-related work, we are also responsible for managing and operating systems.
─ Main activity
Account management, monthly / year-end settlement, budget management, fund procurement, property management, system management, etc.
Planning department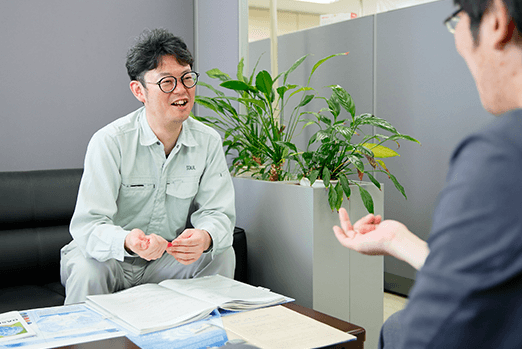 We are engaged in recruitment, public relations and promotion. Although it does not directly contribute to the sales of the company, we are widely active both inside and outside the company through appealing the company and creating materials.
─ Main activity
Company newsletter creation, company profile / homepage creation & editing, running exhibition, recruitment activities (new graduate / mid-career recruitment), etc.
Contact
Contact
Feel free to contact us,
if you have any questions or concerns.
Phone: +81-72-923-1825
(Oversea sales)

Kitakyuhoji, Yao, Osaka, Japan.581-0071